Student: KIEC Student
INTRODUCTION
I am Your Ful Name, son of Father Name and Mother Name. My permanent resident is Your Full Address. I am the middle child of my parents with one elder brother and a small sister to me. My father is the owner of your father's job/company in a Located address. My elder brother is a secondary teacher in *********school, School Address. I would like to claim myself as a hardworking and determined individual seeking a bright future through my dedication to the study. Through this SOP I would like to provide you all detailed information about my academics, personal background, future plan and other necessary conditions for my international qualification from Australia.
ACADEMIC BACKGROUND
In relation to my academic qualification, I have completed my School Living Certificate (SLC) with Academic % from Your School Name, Address in Pass out Year. Similarly, I have completed my Diploma in your faculty from Institution Name, Address with your Academic % in a technical stream under CTEVT (Council for Education and Vocational Training). After the completion of my diploma, I was worked as a supervisor in Company Name. In fact, after my diploma, I was very much confused regarding my university education because the teaching system of Nepal is traditional and mainly theory-based. In fact, my preferred course means a bachelor in civil engineering is completely based on both practical knowledge and research skills. On the other hand, I want to become a Bridge Engineer but there is no University offers such types of course in my home country. That's why I started to think about abroad study and after consulting with my parents they are agreed to support my education anywhere. After that, I left my job in September and started to prepare the IELTS course with an individual and after one month I took the IELTS exam on October 12th, 2017. Because, I wanted to check my English ability and accuracy but unfortunately, I got only 5 scored overall; reading 5, listening 5.5, writing 4.5 and speaking 5.5. After some days, I visited different IELTS Institutes, which had been teaching IELTS course. But, my preference goes to KIEC (Kathmandu Infosys Education Consultancy) because of having an expert and experienced teacher and a number of IELTS resources. In the end, on 28th November 2017, I joined the IELTS class and I continued my study and at least 2 months in KIEC and after practices, I booked the IELTS date again and on 3rd March 2018 and I took the exam. Fortunately, that examination I scored 5.5 overall; reading 5.5, listening 5.5, speaking 5.5 and writing 6.
JOB HISTORY
When I finished my Diploma in Civil Engineering, I was looking for a better working environment and appropriate learning sites. Fortunately, I found that Company Name and Address, was the best and informative construction company in Nepal and it was much more useful for me due to the multinational and well-recognized company. As well as, it had been numerous construction sites so I think working in this company will help me to expand my basic skills. Then I applied at the commercial General Building Supervisor post and after the interview, I was selected for this post on 12th January 2017. My main duties and responsibilities were the supervision and monitoring of construction activities. During my employment period, I had been working at different sites in various cities like Sitasaran Hotel and Nepal Technical Institute in Janakpur, Pasupatiplace in Lahan, and other some supervision sites. On the other hand, because of my job I could not be able to expand my career every day the same work, same plan, and same site and as a result, I could learn other things and could not continue my higher education. In fact, after 8 months I decided to leave my job and continue my education. Finally, on 15th September 2017, I left that company and started to search for my course and the best universities.
REASON FOR GAP
Totally, I have a 14th-month gap. Initially, I had been working as a supervisor from 12th January 2017 to 15th September 2017. After this, I started to prepare the IELTS course by individual and a month after I took the IELTS exam on 12th October 2017 but I scored only overall 5. Then, I thought that I had to take the IELTS class and well prepare than on 28th November 2017 I joined the IELTS class at KIEC. Therefore, after 3rd months I took again the IELTS exam on 3rd March 2018.
ACCOMMODATION
I always prefer to live in a peaceful and lovely atmosphere where I can enjoy the environment and I can live happily in live. So, I think the Joondalup area in Perth is much better for me in terms of living because it is only 41 KM from Perth Airport, Perth. In addition, It is the state capital and largest city of West Australia. It is also the 4th most populist city in Australia. Similarly, it has numerous festivals and entertaining activities such as Rooftop movies, Perth Brazilian Carnival, Fringe World, Perth Festival and so on. The climate conditions of this city are pretty changeable and people are friendly, good shopping places and various restaurants. Therefore, it is an appropriate place for living. On the other hand, the house rent is so cheap at around $150 to $250 per week with 1- 3 bed, 2-1 bathroom, and 1-2 car parks so I think it is cheaper and I can easily afford to live in this range of home rent. That's why; I have chosen to live in Perth city rather than another city in Australia.
WHY I SELECT TO STUDY IN AUSTRALIA
When I finished my Diploma in Civil Engineering course I had a number of opportunities to continue my higher degree in my home country. There are some universities like TU (Tribuhan University), PU (Purbanchal University) and PU (Pokhara University) had been offering a good Bachelor in Civil Engineering course but they were teaching traditional style and mainly a concern of them to focus on theoretical skills than practical skills. Similarly, they did not provide much more individual skills and research fields. But, it is very necessary for me to having project management, knowledge and technique to meet the objectives of any project and better practical knowledge and research skills so these qualifications can lead to a very smart and modern career for me to challenge, creativity and success. Likely, it is also essential to having such practical skills like surveying, leveling, planning supervising, and monitoring, which help to build a better engineering career. In the end, I have found Australia is a reachable destination for those skills in terms of a Bachelor in Civil Engineering for international students. Most of the Australian Universities are well recognized, affordable and reasonable tuition fees, good accommodation, provide numerous research fields, working opportunities, better practical fields, and other several things convinced me to study in Australia.
WHY AUSTRALIA OVER OTHER COUNTRY
When I was searching about the UK, USA, Canada, Australia education system on the internet, I found Australia is one of the most emerging popular education hubs for international students. Unlikely, the USA, Canada, UK, etc. there is a wide disparity between Australia and other foreign countries. Unlike in the USA, Australia is the safest place in the world when it comes to immigrants. Similarly, it has the lowest crime rate and violence among women and children. Unlikely, Australia, the inexorable rise of crime and depredation is always discouraging the international students this has been the main hardly that refrain student going to those countries. Compare with the USA and UK, the tuition fees and living costs are always cheaper in Australia, which is reasonable and affordable for me. In addition, many Australian Universities offer a number of scholarships for both undergraduate and postgraduate students which helps to lower the tuition fees of education. Similarly, Australia provides quality education with practical knowledge and a multi-faced approach. Australia also provides a competitive environment with up to date infrastructure. Furthermore, the climate conditions are similar to my home country. In addition, Australia also provides post-study work after the completion of the course which will be more beneficial for students to utilize the education in the related field. To sum up, there is evidence to suggest that Australia is a much better place for my destination than in other countries.
REASON FOR CHOOSING DIPLOMA IN SCIENCE (Engineering Studies) LEADING TO BACHELOR IN CIVIL ENGINEERING
When I completed my SLC (School Living Certificate) I had several opportunities in fronts of me such as commerce, education, science, and other technical fields. But I was quite interested in construction work like building, highway, railway, bridge, road, and tunnel so I thought it is a quite interesting and much better option for me to choose a civil engineering course. Then, I enrolled in a Diploma in Civil Engineering after SLC. Fortunately, I got 4th times scholarships in my college during that course so it can be proved that my choice is a really important choice in my life. However, during my diploma course, I have only learned basic information about different construction works like understanding the map, managing the work, estimating the work and checking the work accurately according to plan. On the other hand, I could not get much more information about my engineering course during my Diploma course due to a lack of expert teachers and ignorance of collage's responsibility. But, I want to become a Bridge Engineer so of course, I have to study the first-year Diploma in Science with Engineering and next year I will start Bachelor in Civil Engineering because in the first year I can improve my basic technological information as well English fluency after that I can easily be able to understand and solve any serious difficulties during my Undergraduate course. That's why I chose this course. On the other hand, if I can finish this course I will work in an exciting environment, I will gain a lot of practical experience, I will gain a good graduate starting salary and I will learn valuable transferrable skills. To sum up, I think studying for a Bachelor in Civil Engineering is one of the golden opportunities for me or my career.
WHY I HAVE CHOSEN THIS COURSE IN UNIVERSITY NAME RATHER THAN OTHER UNIVERSITIES IN AUSTRALIA.
There are total 35institution in Australia offer bachelor in civil engineering courses but I chose University name for obtaining the Bachelor in Civil Engineering due to various reasons. First University name comes to World University Ranking 2018 (501-600) and it is the top public university in Australia for student satisfaction. Secondly, high caliber staff with extensive experience also pulled me toward University name. Similarly, University name has very reasonable tuition fee and accommodation and their international selections been also easy according to other universities such as University name (A$32400 annual tuition fee), The University name (A$45168), University name (A$39500) and many more universities have a higher tuition fee. Furthermore, some places like Sydney, Melbourne, and Addled are too expensive for living and shopping and these cities are also very crowded. All of them, I think University name is much suitable for my course of Bachelor in Civil Engineering because University name is young, dynamic, regional university, it has become internationally recognized for performing practical, world-class research that delivers high impact solutions. Its research and training programs positive the university to support Australia's innovation agenda, play a major role in regional development, and excellence that informs and inspires its learning and teaching program. Its annual tuition fee only A$26200 as well as it offers international scholarships. In addition, the University name annual fee is only A$XXXXX for the first-year Diploma in Science students and the second year is A$XXXXX for international students. Therefore, I think the University name is the best option for my course including tuition fees, living costs, traveling, insurance, and other things.
University name has three main collages; South West campus in Bunbury, Joondalup collage and Mount Lawley collage. But, I have selected South West Campus because it is located in Bunbury and only two hours drive south of Perth. It is the largest university campus outside the metropolitan area and it has modern facilities, small class sizes, a comprehensive range of courses and on-campus accommodation. There have been some attractions like Cape Naturaliste Lighthouse and Discovery Centre, Jewel Cave, Bunbury Dolphin Discovery Centre, Vally of the Giants Tree Top Walk, Diamond Tree and other various cultural and historical attractions. The South West region is one of the nine regions of Western Australia. It is that name because it is located in the south-west corner of Western Australia. So, I think the South West Campus is one of the best and appropriate places for accommodation.
ENTRY REQUIREMENTS OF DIPLOMA IN SCIENCE IN ECC LEADING TO BACHELOR IN CIVIL ENGINEERING IN UNIVERSITY NAME.
For Diploma in Science leading to a Bachelor in Civil Engineering, applicants especially international students should have minimum English requirements; academic IELTS an overall band score of 5.5, with no individual band less than 5.0, Pearson Test of English (PTE) academic 49, with no score less than 49 for course with the current requirement of Academic IELTS 6. Similarly, the qualification of Higher Secondary School Certificate from the Higher Education Board or Equivalent in Nepal; Standard Entry 65% and Higher Entry 78% and other some University Essential entry requirements.
MY FUTURE PLAN OR CAREER PLAN UPON SUCCESSFUL COMPLETION OF SELECTED COURSE OF STUDY FROM AUSTRALIA
I have earlier mentioned it I want to become a Bridge Engineer. So, when I will finish my undergraduate course from University name then I will apply to extend my visa duration so I can apply for a postgraduate course. Similarly, I will research various things about World Top Bridge and their techniques as well as I will be preparing my next course or Master in Bridge Engineering. In addition, I will have to choose the best and affordable Bridge Engineering Course in Australian Universities. Thus, I will apply for my postgraduate course at the best Engineering University in Australia after the completion of this course.
After completion of my course Master in Bridge Engineering, I prefer my own country to share my knowledge, technique, and experience. I have been raised in a family that has always upheld the responsibilities of life and accountability to one's native grounds. Receiving an affiliation from a reputed university in Australia, I understand the value of it, and it will help me immensely in attending a qualified position to work here in Nepal. Thus, I consider this program to be an important stepping stone to a successful career path with the uniqueness of the university in leadership, innovation, and support. I will abide by Australian laws and will not break any student visa conditions while studying in Australia. So, when I return to Nepal with this excellent qualification, I will be in demand for a prestigious career at the reputed company. There are various international companies investing in our economic field of Hydropower, Bridge, Commercial Building, Highway, Flyover and Ground Tunnel Construction sector. I am confident I will avail of a position as project planner at the immediate after I graduate in the next 7 years. In fact, when I will join these multi-national construction companies I will pay less than NPR30000 monthly but after my experiences, it will be increased by more than NPR25000 to 60000 monthly. On the other hand, I can develop a career to a high level and become a project manager or project director. It would be a life-changing opportunity indeed.  
UNDERSTANDING THE VISA CONDITIONS THAT I MUST satisfy WHILST STUDYING ON A STUDENT VISA IN AUSTRALIA
According to Australia Student Visa Conditions, there have been several terms and conditions to apply for a student visa in Australia such as in 8105(work limitation), 8202(meet course requirements), 8501(maintain health insurance), 8516(maintain eligibility), 8517(maintain education for dependants), 8533(inform education provider of address) and 8532(<18 approval welfare). I have gone through all these terms and conditions and I must satisfy with these rules.
I look forward to a positive response to my application and hope to get an opportunity to study at your University.
Thanking you
Your Name
Contact: +977-**********
Email: Your Email address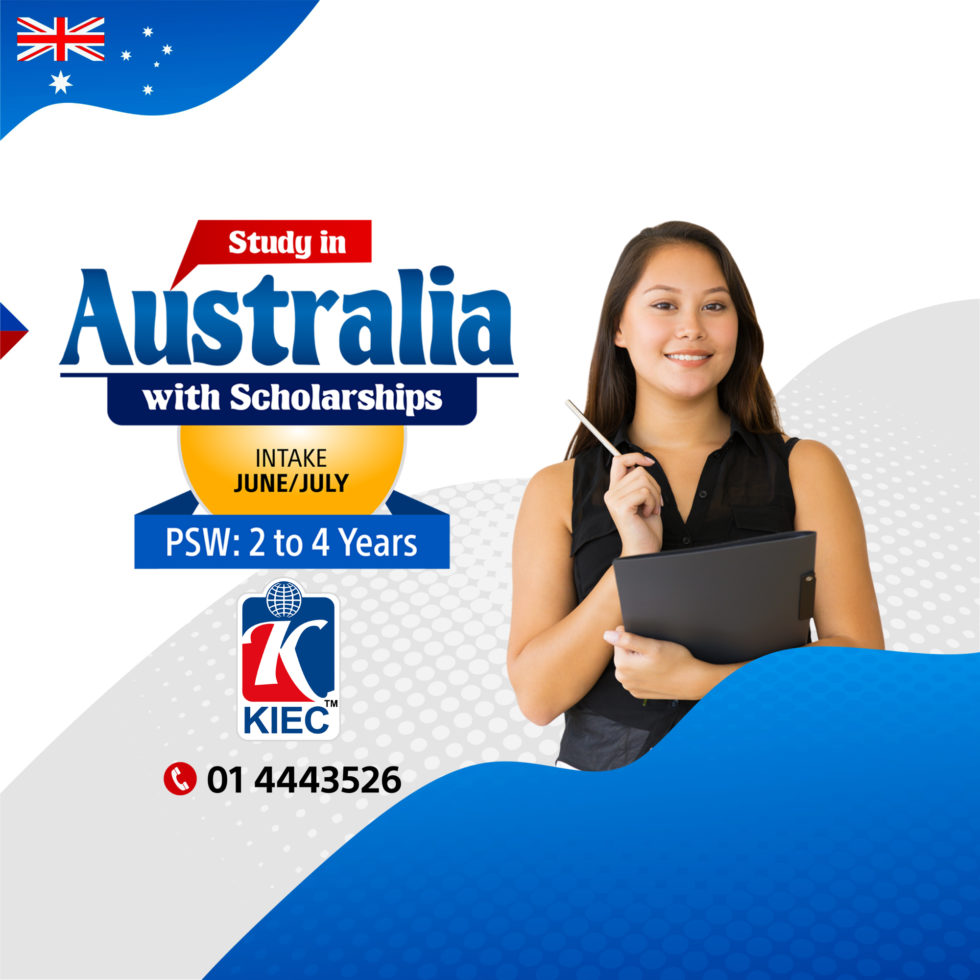 Let's Discuss your Study Options with Us